Design. Prototype. Test. Custom Products uses a proprietary 8 step process called Valid8 for new product introduction. This process draws upon the key elements of the AIAG APQP process for advanced quality planning.

170,000 sq/ft of ISO 9001:2015 of manufacturing talent and engineering skill. Flexible technologies utilized to cut, form, weld, paint and assemble your product with low start up costs and the highest quality.

State-of-the-art, zero-degree OPS, ISO/IEC 17025:2017 accredited test lab. OEM and contract testing to RHOVA, ANSI, OPEI , ASABE, ISO, MSHA, OECD, OSHA, SAE, CSA, and your proprietary standards.
We build products that keep people safe and comfortable. And we've done it since 1962. Why? Because we're passionate about what we do. We're hands on, jump-in, roll-up-our-sleeves people. You'll see the difference in how we work. We make your challenges ours and provide solutions on time, on budget and on target.

Custom Products of Litchfield, Inc. serves OEMs by designing and manufacturing the best looking, best fitting, best functioning cabs and operator protective structures available.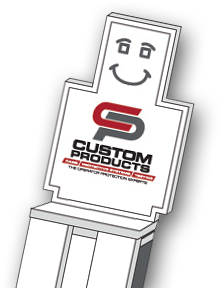 TESTING STAN…DARDS
I'm Stan. And I'm here to help. We're all about safety. ANSI, OPEI, ASABE, RHOVA, ISO, MSHA, OECD, OSHA, SAE, CSA...hey, it's alphabet soup out there, and if you're worried about standards...well, don't. I've got your back. My state-of-the-art
testing lab
will put your product through its paces and you'll hit the manufacturing trifecta: standards, compliance, and peace of mind.
See how the magic happens.