ISO/IEC 17025:2017 ACCREDITED TEST LAB
Knowing what standards you need to achieve and testing your equipment is critical to risk management and operator safety.

Our 1500 square foot, state-of-the-art, zero-degree OPS (Operator Protective Structure) test fa­cility was built for off-highway equipment manufacturers in the agriculture, construc­tion, sport utility, mining, forestry, and turf care industries. Various protective structures used with off-highway equipment can be tested to ROHVA, OPEI, ANSI, ASABE, ISO, MSHA, OECD, OSHA, SAE, CSA, as well as your company's specific proprietary standards.

Our engineers can help you to determine your testing and certification needs, and can assist you with navigating the maze of standards language.

We also perform contract testing, even if we are not the manufacturer. This third party certification helps you manage product liability and gives you the peace of mind that your cabs and ROPS are safe and reliable.
Test Facility Specifications:
1,500 square foot lab
Vehicles up to 500,000 lbs. GVW
Horizontal forces up to 200,000 lbs., vertical forces up to 1,000,000 lbs.
138,000 BTU cooling capacity for 0°F testing
High pressure hydraulic pump station
5 ton overhead bridge crane
Roof hatch for FOPS (Falling Object Protective Structure) testing (100 & 500 lbs.)
State-of-the art digital force/deflection measurement systems
19.5 foot by 18 foot door
34 foot observation deck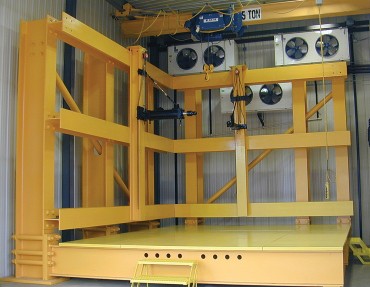 Get the experience that 1,000 successful tests and hundreds of ROPS designs can provide.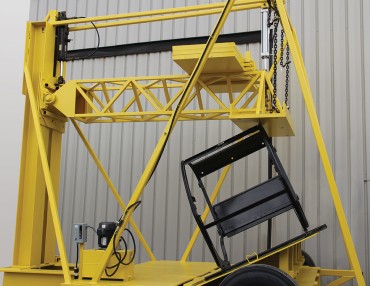 Custom Products can provide testing for all categories of utility vehicles including Light Weight, LSV, MOHUV and ROVs.
Stan the Standards Man
Introducing a new member to the team; Stan The Standards Man! Stan is the personification of a DLV (Deflection Limiting Volume), which is an orthogonal approximation of a large seated operator—a representation of the operator and the space that is generally occupied by that operator. (And you thought he was just another pretty face.) Stan advocates for proper testing of roll over protection systems (ROPS), and falling object protection systems (FOPS), and helps our customers learn how the myriad of industry standards apply to different types of ride-on equipment.

As one of our many operator protective structure related services, our state-of-the-art, ISO 17025:2017 accredited test lab validates that cab designs will provide the necessary level of safety to the operator.

One of our driving goals is to ensure that any ROPS or FOPS that leave our facility are properly tested, and exemplify a standard of excellence. That's where Stan the Standards Man comes—he takes the hit in our laboratory to ensure that operators stay safe in the field!